9 budget friendly ways to feel like a millionaire on the Mornington Peninsula
Some of the best things in life are free or as Coco Chanel once said "The best things in life are free. The second best things are very, very expensive."
This can certainly be applied to the Mornington Peninsula with ocean side properties, extravagant yachts, luxury hotels and fine dining restaurants there can be some big price tags.
You may be surprised to find out that what makes the Mornington Peninsula so spectacular and special, is that you can actually enjoy the very best of it and feel like a millionaire without having to spend a fortune.
Here is our (eco–conscious) guide of 9 ways to live a champagne lifestyle on a beer budget when visiting the Mornington Peninsula…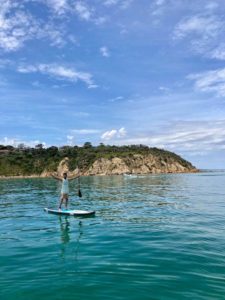 1. Drop anchor in your own private bay
Head out on your own vessel onto the crystal clear waters of Port Phillip Bay along the Mornington Peninsula coast. Instead of a luxury yacht we recommend taking a Stand Up Paddleboard and floating to your own secluded section of coastline with nobody else around. When you find your perfect spot, do what the yachts do, stop for a while, dive off into the turquoise waters, relax by lying on deck (your SUP), take a little picnic (in a waterproof bag)and take it all in.
If you don't have a SUP, they can be rented for pretty cheap from various locations on the peninsula or if you want to do a SUP lesson/tour to some of the most picturesque spots along the coastline, WAM! can take you!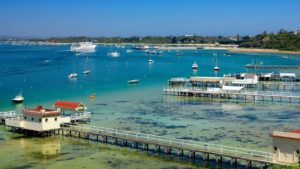 2. Take a stroll along

Millionaires 

W

alk
Probably the most obvious way to feel like a millionaire on the Mornington Peninsula is to wander along Millionaires Walk which is completely free to do and gives you a front row perspective of the bay.Mega mansions line the pathway of this cliffside walk with sweeping ocean views & art displays.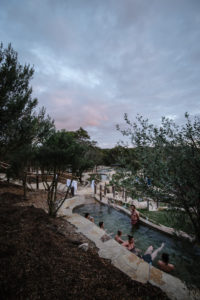 3. Pamper yourself in your own private hot springs
It's hard to believe when you are surrounded by native trees feeling in the middle of nature, that the Peninsula Hot Springs has only been open for just over 15 years.
Entry fees are very affordable, and you are guaranteed to feel like a million dollars after bathing in some of the worlds best thermal hot springs. But what if you could also have your own private thermal pool? It may sound far-fetched but the Peninsula Hot Springs is now open 24 hours a day meaning you can visit in the middle of the night for some moonlit bathing when there is hardly anyone else around.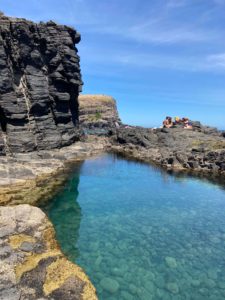 4. Enjo

y an 

Infinity Pool Overlooking 

The

 Ocean
Usually you would have to be staying at some of the most expensive hotels or villas in Australia for ocean facing infinity pools, but the Mornington Peninsula has some incredible natural rock pools the size of swimming pools right by the ocean.
A picturesque coastal hike to Bushrangers Bay is free and these rockpools give you a million dollar view without any hit to your bank balance.
Warning: rock pools can be extremely dangerous even at low tide, we recommend you only visit with an experienced guide who can show you the safest way to experience these magnificent waters. Join the WAM Mornington Peninsula Adventure to be shown the best of them without the crowds.

5. Your own cinema under the stars
When approaching Dromana Drive In Cinema, you may not feel like a millionaire with its retro 80's vibe, but that's what makes this venue so brilliant. With multiple screens, and the fact you don't even need to get out your car means, you can park up, tune your radio in, sit back relax and feel like you are in your own private open air cinema.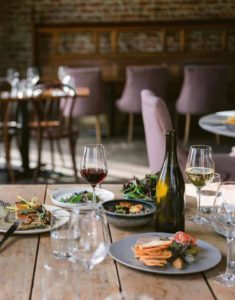 6. World class wine tasting
With over 200 vineyards, and 50 cellar doors, you don't have to travel far to find a winery on The Mornington Peninsula. And with so many to choose from, there are some incredible laid–back options where you can taste world class wines in an idyllic setting for very little cost.
Our full day adventures on the Mornington Peninsula include visits to some of the best wineries you can find with exclusive set ups for lunch and tastings.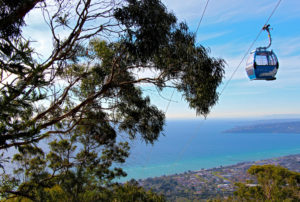 7. Your own cabin with the best views of the bay
Arthurs Seat on The Mornington Peninsula offers some of the best panoramic views of Port Phillip Bay and beyond even with the Melbourne skyline in the distance on a clear day.
There is a way of enjoying these views in style with your very own cabin overlooking it all. Sounds pricey? Doesn't have to be, for less than smashed avo in your local café, you can hop on Arthurs Seat Eagle from the summit station and for 15 glorious minutes you will have the most spectacular sweeping views out of anyone on the peninsula in your very own cabin (cable car). If you go during non-peak times, the chances are you'll have the cabin to yourself.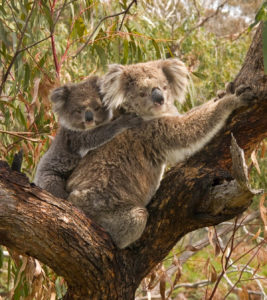 8. Go on safari with iconic wildlife
People come from all over the world to see Australia's iconic wildlife and the Mornington Peninsula is a place you can wonder and be treated to seeing koalas, kangaroos, wombats, echidnas and wallabies in the wild. Better still the marine life is unreal with dolphins, whales (during whale season), weedy sea dragons, seals and much more to be discovered. We suggest going on an eco tour with an operator that knows where to find these awesome creatures or perhaps consider joining a WAM Eco Adventure.



9. Set up on a beach all to yourself 
Unlike parts of the Mediterranean, you have a much better chance of finding space and privacy on Australian beaches. With almost 200km of coastline, the Mornington Peninsula has ample beaches to choose from many of which are filled with pristine white sand, turquoise calm waters and potentially some marine life like dolphins too. You may even have a stretch of sand all to yourself. Our favourite beaches include Balnarring and Somers on Westernport Side and McCrae and Mount Martha South on the Port Phillip side.
Join WAM! on your next trip to the Mornington Peninsula with a fully guided outdoor adventure in nature combined with indulgence at sensational eateries and hot springs.